Health Policy Research Institute
Comparative Effectiveness Research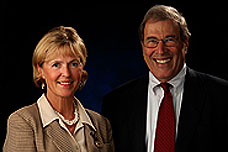 A Message from the Executive Co-Directors
Welcome and thank you for visiting the UCI Health Policy Research Institute (HPRI) website.
HPRI is an interdisciplinary faculty research organization dedicated to quality of care, the doctor-patient relationship, and measuring the outcomes of care, with an emphasis on chronic disease in minority populations.
Please feel free to explore our website to get more information on our faculty, their research, and our mission at UC Irvine.
Sherrie H. Kaplan, PhD, MPH
Sheldon Greenfield, MD
About Us
The UC Irvine Health Policy Research Institute (HPRI) is a multi-disciplinary research unit that conducts health services research, comparative effectiveness and quality-of-care research.
HPRI focuses on the assessment and improvement of the quality of health care, especially care for chronic diseases, with an emphasis on understanding and reducing disparities in health and healthcare for racial and ethnic minorities as well as for vulnerable populations.